I recently returned from a Dixie Belle Workshop Conference.  It was in sunny Florida, so that was very refreshing.
One of my most favorite workshops was conducted by Lisa Harrison with Paintiques, a Dixie Belle Retailer from Alabama.   She is an expert in painting Kitchen Cabinets and Countertops.
She painted this countertop piece in our 1-hour workshop!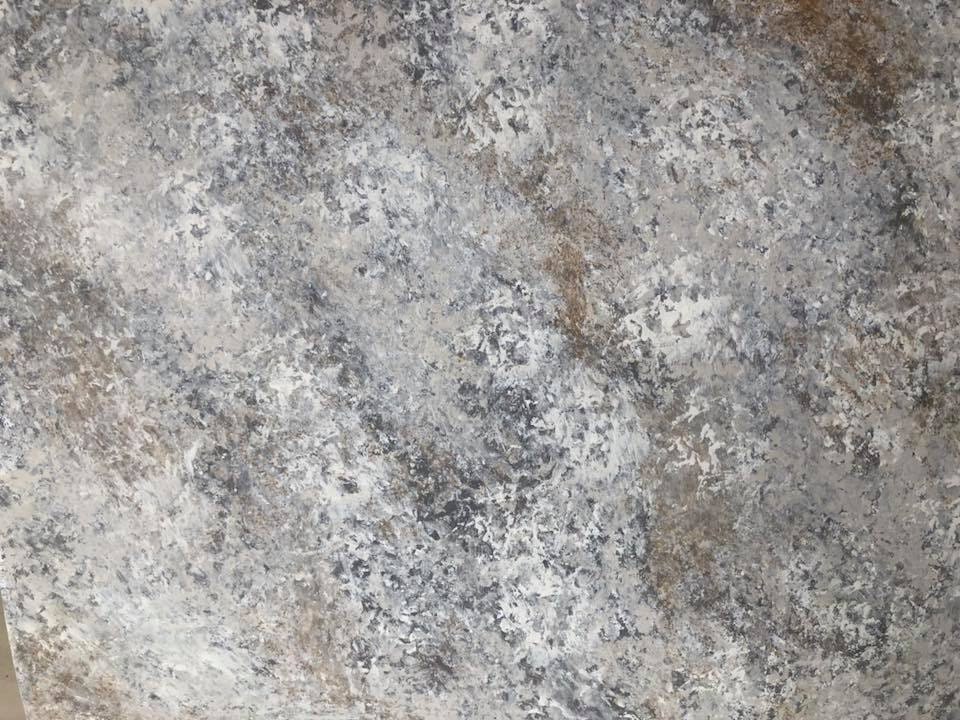 Unbelievable?
Here are the simple steps!
Lightly sand the countertop.  Nothing heavy!  Just scruff it up a bit.  
Dust 
Clean the countertop with Dixie Belle's White Lightning cleaner.  
Tape off the areas you don't want painted.
Apply one coat of Dixie Belle's Slick Stick.  
Now you are ready to paint! 
For this formula, I am giving you the paints that Lisa used in the class to create the look you see in the picture.  
You can choose whatever paint combination you prefer.  However, it is a good idea to always include the paint color of your cabinets in your list.  That will bring your new kitchen look together (if you are painting cabinet too).
1st base coat,  Driftwood - Paint the entire counter with this color.
Then, using a sea sponge...dab on the following colors in the order listed.   Before you work with each paint color, pour some out on a paper plate.  
Sandbar
Hurricane
Pine Cone
Drop Cloth
Midnight Sky
Don't  worry about each coat drying before the next.  If your paint is still a little damp, it will meld together smoothly.   If you let it dry between coats, each color will pop a little more!  Your preference.
Let dry completely, to touch.
Apply (3) coats of Gator Hide.  
We like applying Gator Hide with a sponge.  The big blue Dixie Belle sponge works well or use a simple "car waxing" sponge.
Apply the first coat, horizontally.  Second, vertically.  Final, horizontally.  Let the Gator Hide dry completely between coats.
- Take knee-hi stocking.  Insert a regular kitchen cleaning sponge.  You know...the yellow ones with the green scrubby back!  Hold the scrubbing backside and apply with the sponge side.  
Voila!  A beautiful countertop for a smidgen of the cost to buy all new!
www.customdecorpaint.com